---
---
A Definitive Guide
to Men's Driving Loafers
Tuesday Bote — Aug 12, 2020
---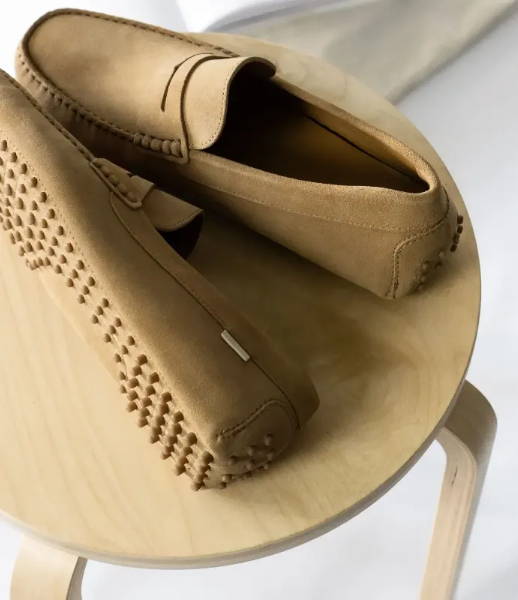 ---
There comes a point in a man's life when sneakers just lose their appeal – and as you grow a little bit older, you'll want to upgrade your casual style. Men's driving loafers are the perfect step up! It's a classy alternative to sneakers, sandals, and flip flops that adds a touch of style to your everyday casual look.
---
The first driving shoes were aptly named "Car Shoe", and traces its origins to the carefree, Italian lifestyle of the 1960s. Men's driving loafers were introduced as convenient slip-on shoes that can be comfortably used while driving a sleek ride. These classic casual shoes are essentially moccasins for men and formal shoes in leather or suede, but can also be used in casual outings.
                       
Drivers usually come in traditional browns and blacks, in suede or leather, with rubber nubs or thin rubber treads for soles, that extend up the side of the heel. Men's leather driving shoes have since evolved to include a variety of styles, details, and colors, but still retain a slim silhouette.
---
The Difference Between Loafers and Moccasins
The styles between moccasins, loafers, and driving shoes men love, have subtle differences in their soles, heels, and in the way they are used.                                                
Men's standard loafers with a thick heel like a typical dress shoe, can now be used in more formal situations if they have a shiny leather finish.  
Moccasins or driving loafers (also called "driving mocs") on the other hand, don't have the same formal heel and can only be worn casually. The rubber nubs under men's leather driving shoes that doubles as a subtle sole, are primarily used to grip your car pedal better.
---
Types of Driver Shoe Styles and Designs
---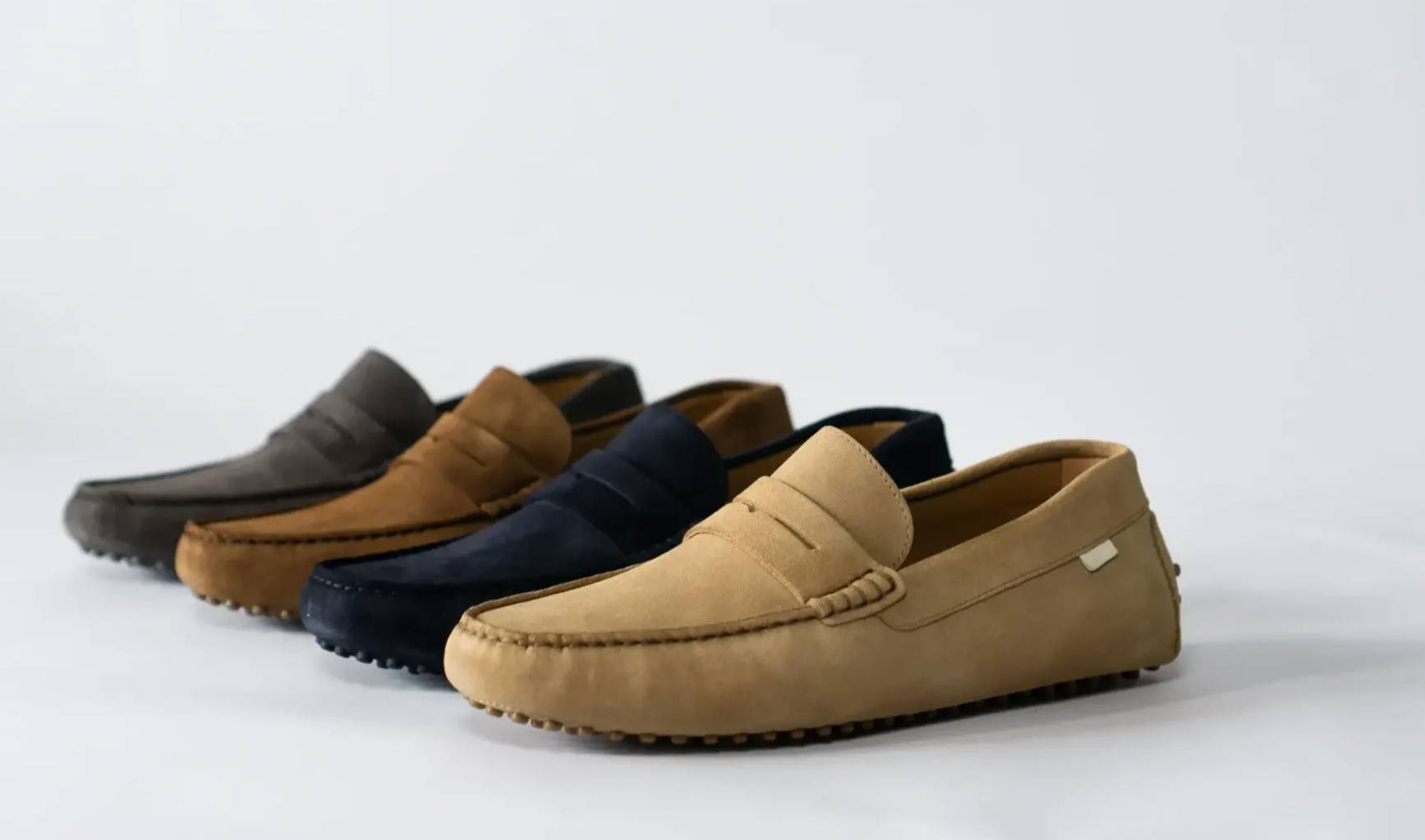 While drivers maintain a minimalist style, you can actually get them in many different colors, materials, and finishes with classic details:
                 
Materials
You can have your pick of suede or leather (authentic or synthetic) with differing styles of rubber tread designs and nubs.
 
Finishes
A matte suede or leather finish is great for casual everyday attire, while drivers with an expensive shiny leather exterior can pass for dress shoes with the right styling.
 
Designs and Details
A penny loafer type driver features a diamond detail across the bridge, while some classic driver designs feature a horse-bit metal accessory on top. Tassels add an iconic flair to any business casual look.
 
Colors
With more colors to choose from, you can have your pick of classic blacks and browns, along with contemporary hues and bright colors to bump up your style.
What Makes a Great Driving Loafer?
---
---
If you're looking for the best driving shoes, you'll definitely be adding an investment staple shoe that you can look good in for years to come. Until you can afford one of the premium men's driving loafers that are handmade leather shoes, or suede drivers, you might want to consider more affordable luxury leather shoe brands. They can offer the same premium features, at half the price.
                                     
As drivers are mostly made from materials that absorb sweat, you'll want to look for men's driving shoes suede and leather loafers that decrease smell retention. All drivers are not meant to be used as walking shoes, so wear and tear depends not on material per se, but how often you use your drivers.


Even the most avid collectors of premium drivers (Tod's driving shoes or Gucci loafers) say that all driver heels will eventually give in to constant wear.
---
How to Wear Men's Driving Shoes
Whether you like leather or men's suede driving loafers, make sure that when you wear them with pants, opt for hems that aren't too wide or too long at the heel. That would ruin a perfectly good shoe silhouette; your pants will look like they swallowed your driving loafers!
                                                                             
Suede and leather drivers are spring and summer shoes that can be paired with jeans, chinos, and shorts. Stick to clean, neutral tops to give off an effortless, smart casual look.
 
Men's drivers in classic brown tones can work for business casual events at the office, while contemporary colors with bright hues (think burgundy, blue, or even green) are best for your personal downtime.
 
Finally, driving shoes are meant to be worn sockless. Wear no show socks if you must.
---
---
When to Wear Leather Drivers or Suede Driving Loafers
---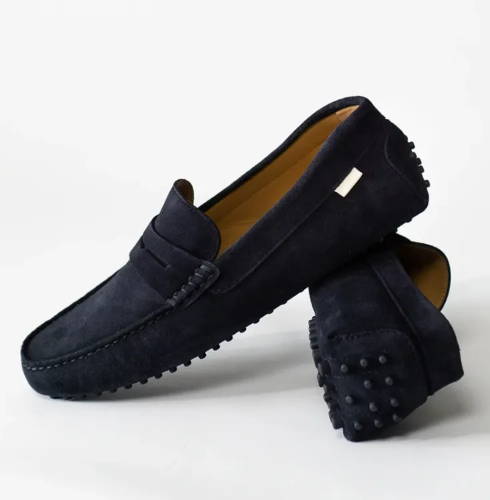 ---
As much as you would want to pair your matte finished drivers with everything you own, there are prescribed situations for showing off your sophisticated casual look, and a wedding or any other formal event is not one of them. Reserve your men's leather driving shoes for:                                                         
- a weekend outing or vacations
- warm sunny days
- having a casual lunch date outside
- business casual looks with unstructured suits
3 Ways to Look Dapper with Men's Driving Loafers
Driving shoes men find intimidating usually have many details. Dressing with drivers doesn't have to be as complicated as you think, if you follow a minimalist aesthetic. Here are the top 3 easy ways to wear men's driving shoes suede and leather loafers:

1. Wear Your Drivers with Cuffed Jeans
Channel you inner James Dean with a white or neutral tee, dark denim and slightly folded jean hems. This look is perfect for breezy walks in the park or spending quality time with family, lounging at your own backyard.
 
2. Pair with a Casual Collared Shirt and Tailored Shorts
Nothing says you're chillin' on vacation like a couple of drinks near the beach in your drivers and shorts. Even if it's just a weekend getaway, things always look promising with your driving loafers around.
 
3. Put together of a Cool Date Look with Leather Drivers, Slim fit Chinos and a Classic Pullover
If you don't want to look like you're trying too hard by wearing dress shoes - a good men's driving loafer strikes the perfect balance of being a nice shoe without being too nice.
---
---
How to Take Care of Driving Shoes
---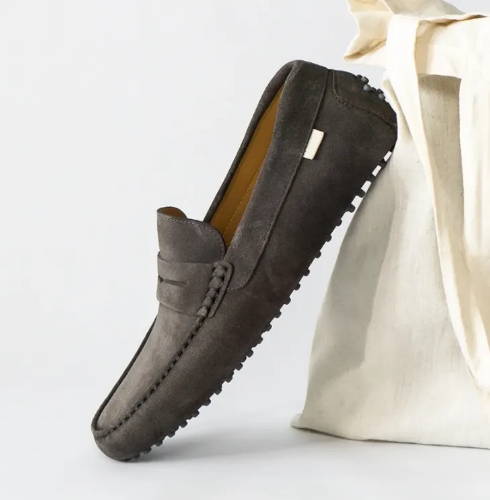 ---
Here's how to show your drivers some love:
             
1. Take care of suede or leather drivers with proper shoe maintenance. Leather shoes, in particular, will need an occasional application of leather conditioners. Suede drivers will also need regular brushing. Brushing your drivers keeps dirt, dust, and stains from ruining your shoes. Use water and vinegar for stains and spot clean immediately.
2. Never let your men's driving loafers retain smells or moisture. Deodorize often; shoe trees can help.
3. Use a rotation of drivers so you don't wear out a pair fast.
4. Store your driving loafers (with shoe trees inserted) in a cool, dry place.
---