---
---
5 Important Essentials for the
Best Women's White Sneakers
Tuesday Bote — Aug 8, 2020
---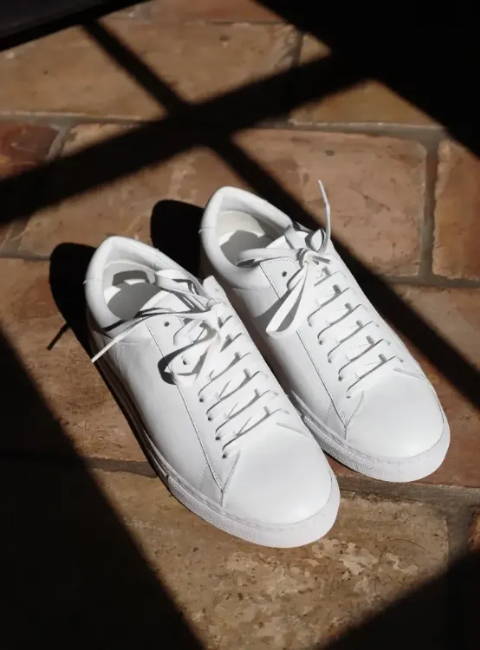 We don't see the white sneaker trend going away anytime soon – sneakers from the future might probably get jetpacks for soles but they're still going to be styled as all white! The white sneaker is an iconic fashion staple that can make any outfit look effortlessly chic even without an 'IT' bag.
                                                                                               
You can't go wrong with the best women's white sneakers; they go well with any fashion choice, whether your personal style is preppy or edgy. Investing in a great pair of white shoes makes dressing well as easy as pie.
---
---
3 Common Types of White Sneakers
While most people look for the latest shoe styles, you'll want to search for women's white sneakers that can be an investment piece to build a more fashionable wardrobe.                                       

A sneaker's shelf life depends on the material, and how often you wear and maintain your shoes. Here are the most common sneakers available in the market today:
                                                     
- Athletic Shoes
Most running shoes come in nylon and synthetic leather, with rubber soles for better performance. If you prefer a sports shoe brand, you may want to consider if an athletic shoe is versatile enough to look good even off court. Unless you're a professional athlete or you train seriously, an expensive sports shoe may not be worth the hype (and by hype, we mean the ridiculous price tag).
- White Leather Sneakers
---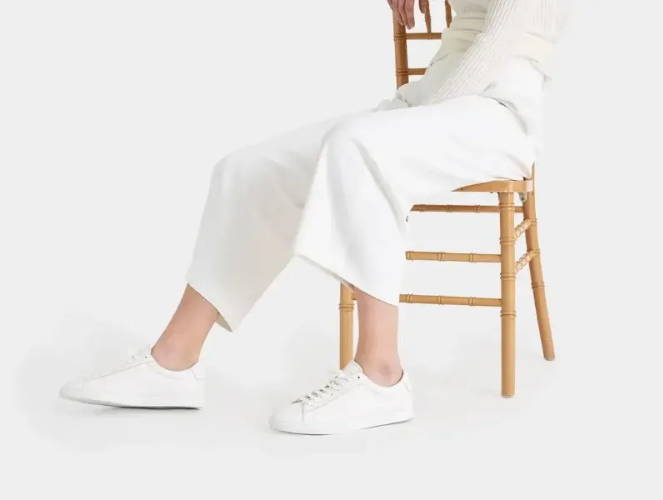 Sneakerheads often prize white sneakers with authentic leather for the luxurious feel that they have. Italian white leather shoes, in particular, offer one of the best options for a premium feel. Why not invest in minimalist Italian sneakers to cement your style game? The best women's white sneakers in Italian leather make any outfit look styled to perfection, and can make you feel camera-ready in a flash!
                                                 
- Canvas Sneakers
Canvas sneakers have been around since the 1930s, and have since become fashionable tennis shoes even off court. The downside is that no matter how good a canvas shoe is made, this kind of material doesn't last as long as white leather sneakers. Canvas shoes, because they're made of cloth, tend to yellow a lot faster too.
Unlike leather, which is easier to clean, you'd have to soak and scrub canvas sneakers a lot harder to take out stains. Leather also has the added advantage of being waterproof.
White Sneaker Designs and Styles
While the most hyped men's sneakers often defy classic designs and feature a lot of fashion-forward looks, women's white sneakers carry either minimalist or contemporary styles with an emphasis on a more feminine (dainty) silhouette.                          
Most women's white sneaker designs fall into the following categories:


1. Platform Sneakers
White platform sneakers look chunky because the design emphasis is for everyone to notice the sole. It's a valid style choice to look taller but you'll always need to plan your outfits more carefully. Chunky shoes tend to fall on the casual side which might not mesh well with smart casual attire.


---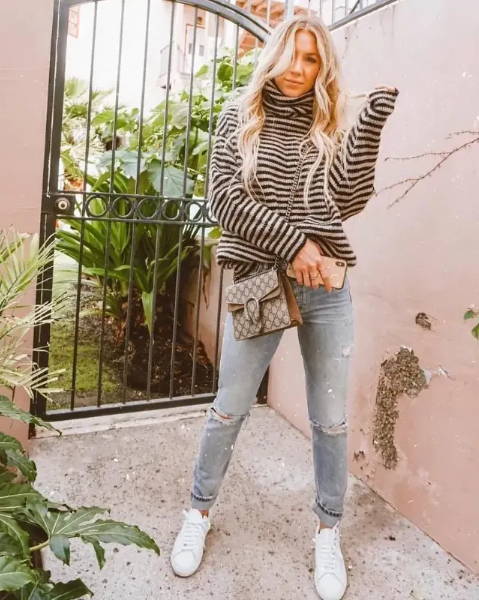 ---
If you only had to buy one pair of women's white sneakers for the rest of your life – pick a minimalist white shoe that you can wear in a million different ways. They can tone down an edgy outfit so that it's more conventionally stylish, and they can also dress down more formal looks so that you look edgy. Most classic fashion staples have minimalist details.
3. Fashion-forward, Trendy Kicks
Often reserved for teens, coeds, or celebrities, trendy white kicks have their place and time in a woman's closet. Even if you like a more edgy look, fashion-forward styles, with funky names to emphasize how campy they are, are more likely to make you regret buying them in the first place. (Even if you loved the first time you wore them, wearing them once every few months, then stuffing them in the back of your closet forever, doesn't count as a good investment.)
5 Essentials That You Should Be Looking Out For When Shopping for 'The One'
Whether you're the type who can spend hours trying on a pile of white women's sneakers, or if you just read the top product review online and hit "checkout" right away -                            
It pays to look for 'a gem in the rough' when you want the best women's white sneakers:


1. Quality 
---
---
You don't have to worry about your budget if you know that you will get the best value for your price range. Whether you're buying canvas, women's white leather sneakers or athletic shoes, check out how well a shoe is made first. This helps you know how long a shoe can last, even with constant use.
Even if it's your favorite brand, you might want to consider buying white women's sneakers with quality material, rather than buying a "cute" branded shoe every few months. Well-made leather shoes are always a good option because they're known to last a few years, given the proper shoe care.


2. Value
Expensive doesn't always win in the value department. Would you believe that every price range has its perfect value peak? Check the shoe material and where they're sourced, and if the brand has physical stores – those factors affect retail price. You might be better off not buying for brand recognition if the value is not worth it.
Besides, an unknown, well-made shoe can be tomorrow's holy grail – so you might not know it now, but you might be one of the first to buy a collectible shoe in the making!


3. Fit
After value, fit is an unmissable element to look for in the best women's white sneakers – check out the sizing guide as if you're reading the fine print on a contract. Each shoe brand has tips for sizing up or if you need half a size longer than what's available.
If you want a wider fit, you can opt for men's shoes in a minimalist style because they carry a narrow silhouette that can still look feminine.


4. Comfort
Ah, the pains that women go through to find the perfect shoe! You don't have to suffer a difficult breaking-in period - unless you don't plan on wearing heels or sandals eventually. You'll want sneakers that are gentle on your heels and toes. No show socks can only do so much. Any good shoe should still take care of your feet, the longer you use your sneakers.
Another comfort factor is the tongue – sneakers with tongues that stay in place (don't move around as you walk) makes for a more comfortable shoe.


5. Weight
Are you the type who gets bothered by heavy white sneakers or not? Weight can be a deal-breaker if you already have a difficult break-in to contend with. Some women's white trainers can look chunky but still feel lightweight, depending on what material it's made from.
Platform shoes are a valid style choice, but in the end, a shoe still has to be light on your feet –


the perfect white women' sneakers can give you a bounce in your step that can make you feel like you're ready to conquer anything.