---
---
Nubuck vs Suede Shoes:
Which Is Splurge-Worthy?
Tuesday Bote — Aug 17, 2020
---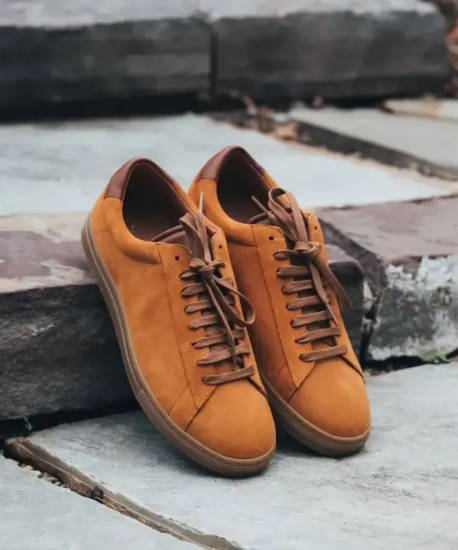 ---
---
If there's one thing to be said about this pandemic, now we have online shopping down to an art form. On one hand, you might be thinking that it might not be the right time to splurge, but when you're buying a staple that you love, and will give you that extra boost of confidence every day - it's an investment that's worth every cent.


Leather is always a good option for longevity and style, and the nubuck vs suede debate is a dilemma for many leather shoe lovers. Most people pick either side thinking they're getting quality either way: as long as it looks good, it won't make any difference. But knowing the difference IS a big deal when it comes to making that once in a while shoe splurge. It can only go two ways: glowing satisfaction for having money well spent or deep regret that you missed out, big time.

We're here to give you all the best options for suede and nubuck shoes – so go ahead and reward yourself.


---
---
Suede comes from the underside of leather that looks and feels softer than regular leather taken from the outer layer. Suede leather is thinner, with a more supple quality, but still sanded down to a velvety finish. The term 'suede' is a translation of the French phrase, 'gants de Suède', that refers to 'gloves from Sweden'. Because of suede's pliability and softness, it was, and still is, a popular material for gloves.


---
---
Why Most People Love Suede
You don't have to be Elvis to appreciate suede shoes for men – it has a rich history because of its premium feel that even crosses over to fashionable accessories and timeless articles of clothing (gentlemen's driving gloves and classic jackets, just to name a few). The finest quality suede shoes can come from exotic leather hides and calfskin grade suede.
Despite this soft leather's vulnerability, people still value suede shoes for the rarified air they bring. There's nothing like wearing fine suede shoes to call attention to your sense of style.


---
---
---
Nubuck is tough and can also be sanded down to look as finely textured as suede (hence the confusion). The main difference is that looks thicker and it feels slightly rougher. Since it comes from leather's outer layer, it's more waterproof and weather-friendly. Nubuck can also develop leather's signature patina over time. Patina refers to an 'aged look' that good leather acquires over time, which gives it a more distinguished, vintage feel. Lighter colored nubuck shoes give off a slight sheen, then looks a bit darker, with telltale signs of constant use. Funnily enough, this doesn't have any effect on nubuck's durability.


---
---
The Appeal of Nubuck Shoes
Nubuck shoes, in contrast to suede shoes, have a more working man appeal. If you have an outdoorsy personality, nubuck footwear can be a more likely option. Unlike suede which is known for its more delicate nature, nubuck is more robust. Its top leather layer thickness can take a pounding from dirt, scratches and stains. You don't have to tiptoe around water as much, and you can stomp around to your heart's content.


A Host of Growing Nubuck Styles To Suit Any Mood
---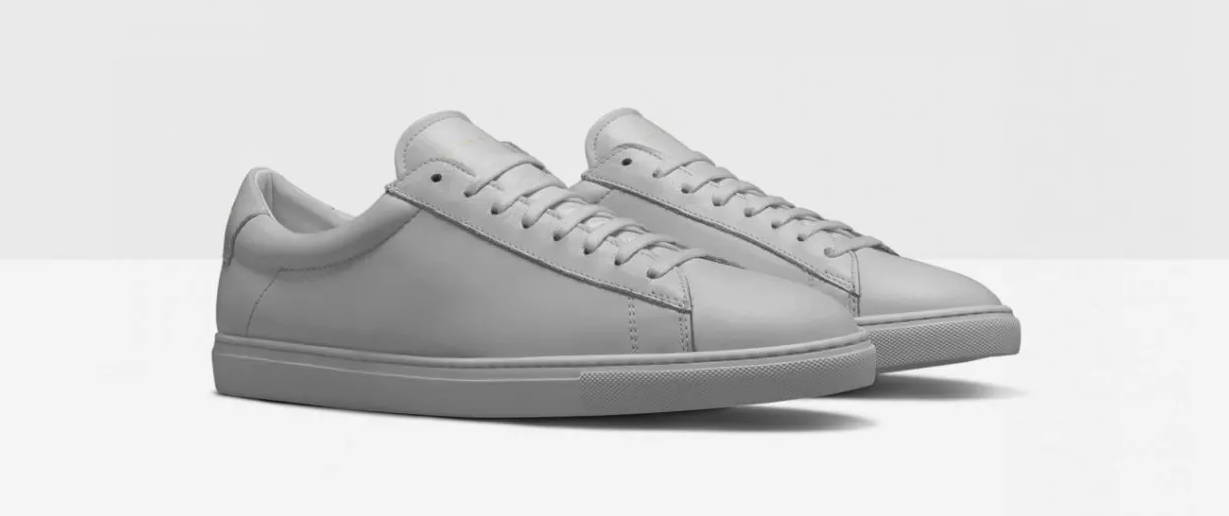 ---
Like suede, nubuck shoes come in a variety of styles, and are no longer confined to being working man's boots - you can enjoy different shoe styles to suit any occasion. If you aren't into nubuck boots, check out different styles of nubuck sneakers.


---
---
How to Spot The Good, The Bad and The Ugly
Whether nubuck or suede, there are general guidelines for judging what quality leather is.       
- Nubuck shoes that have a more coarse underside means its made from inferior leather.
- Vegetable-tanned leather, on either suede or nubuck, signifies a more organic material.
- If you see 'full-grain' or 'top grain' on the label, you're getting high-quality leather that has a more natural look.


---
---
Taking Care of Your Prized Suede Leather Shoes
Suede fanatics follow one cardinal rule when it comes to suede care - water should be avoided at all costs. If you want to make your suede shoe more formidable, you may want to consider waxed suede for waterproofing. You'll also need a proper shoe brush, specially intended for suede, plus an eraser for stains.
                                                                                             
Directions for cleaning suede shoes:
- Brush the whole shoe in one direction to get rid of dirt.
- Use an eraser (or water and vinegar for stains) to spot clean. Re-brush.
- Use a weatherproofing spray to keep suede looking good, even in light rainfall.


---
---
Nubuck, like suede, will need brushing and cleaning with a unique nubuck-appropriate brush. You also don't need to soak nubuck in soap and water, just wipe with a damp sponge to get rid of grime.                                     
Directions for cleaning nubuck shoes:
- *same directions as cleaning suede, with the same weatherproofing method
- Use a brush specific to nubuck.
 For both suede and nubuck, just air dry them but avoid using hairdryers, as this will stiffen the leather.


---
---
How to Wear Suede and Nubuck Shoes
---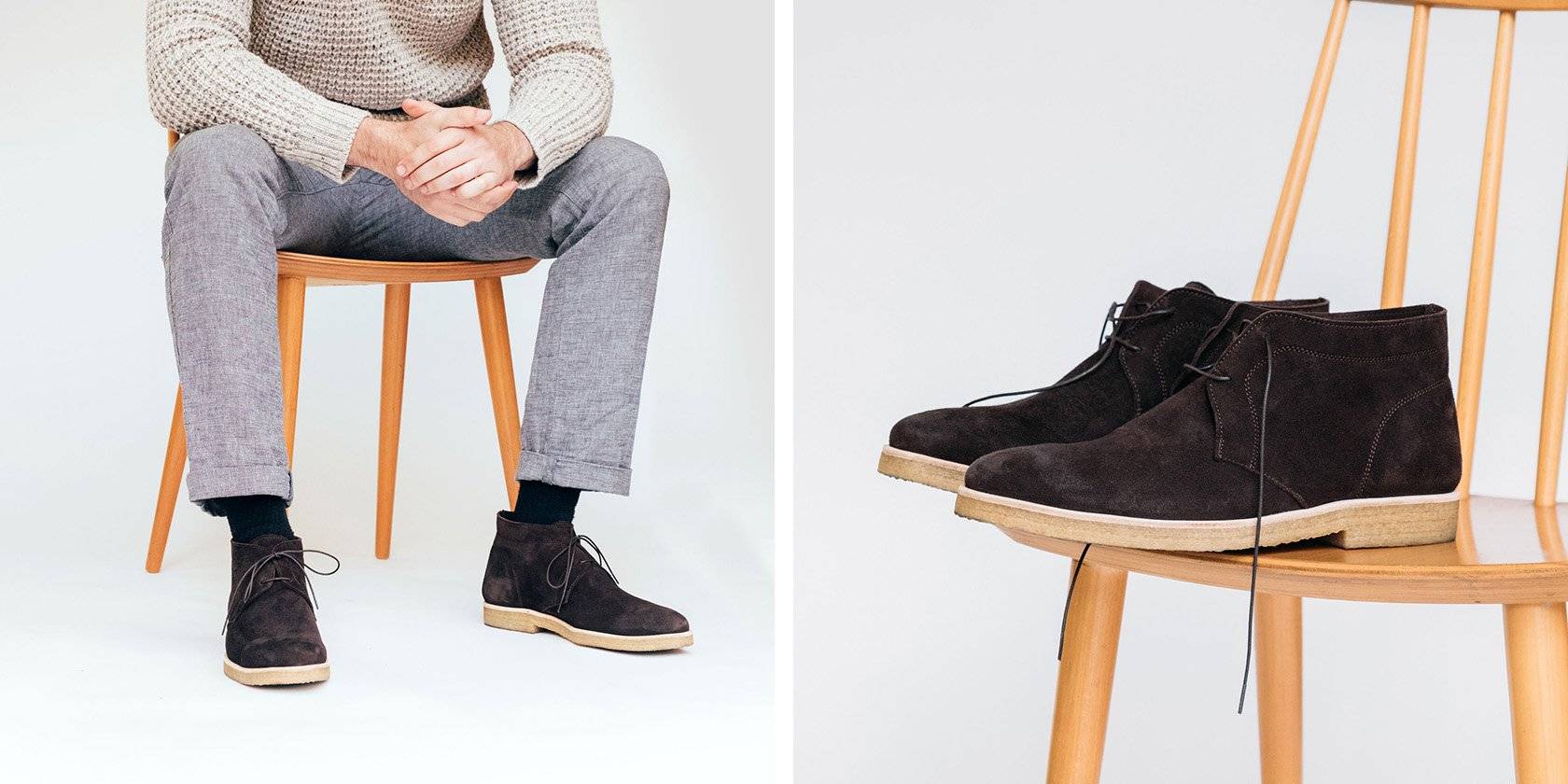 ---
Depending on the shoe style, you can dress your suede or nubuck up or down.                      
Loafers: During summer, you can wear suede loafers with tailored shorts and go sockless.
Sneakers: Wear suede and nubuck with slim-fit chinos and cuffed jeans to upgrade your casual style.
Boots: Opt for nubuck in winter, and pair with a fitted long coat. For other seasons, go for understated outfits to make your boots stand out.
Dress Shoes: Dark brown or black brogues can be a styling option that go well with formal suits.
 
---
---
If You're Torn, Look For Staple Potential
No leather shoe is perfect – suede and nubuck both have their fine and weak points. Depending on what you're looking for, either suede or nubuck shoes can be the better option. Suede gives a more refined look, while nubuck usually comes off as an all-weather, outdoor choice.

You can opt to get both types of leather shoes so you can have more style possibilities to make a grand entrance anywhere.
---
---